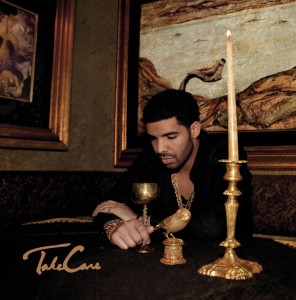 Last year when hip-hop star Drake dropped his debut album, "Thank Me Later," he made enormous waves in the industry. Critics went so far as to say that he is changed the sound of hip-hop. In a way, it was true. Drake's style was, and still is, unique. Drake is able to combine solid rap verses and flows with R&B styled rhythms, and he expresses that strength in glorious fashion on his new sophomore album, "Take Care," released Tuesday, Nov. 15.
In a lot of ways, "Take Care" sounds more like an R&B album than a rap album and that is perfectly fine because Drake makes it work. In fact, the album is at its best when Drake takes a minute to step back, reflect, slow down and be a little sentimental. The opening track, "Over My Dead Body," does a solid job of establishing this tone, and the second, "Shot For Me," just further solidifies that sound as Drake sings about a girl that seemed to forget not only who he was to her, but who she was. The song fades out with the beat from the next track, "Headlines," a track that, while could have been executed better, is a clever transition on the artist's part.
Perhaps the best part about Drake's experiments in this R&B sound is that it has influenced who will probably be the next sensation in the genre, The Weeknd. The Weeknd has been noted for saying that "Thank Me Later" was a huge influence on his music and he gets multiple shots at being featured on "Take Care." "Crew Love," the fourth track, showcases The Weeknd's vocal range and unique sound that will surely start grabbing people's attention. Including The Weeknd, Drake assembles an impressive group of guest performers, such as Rihanna, Lil' Wayne, Andre 3000, Nicki Minaj and Kendrick Lamar. Lamar spits out a solid verse for "Buried Alive," a solo piece for the artist that is tacked onto the closing of the epic "Marvin's Room," a song that by itself sums up everything that is good about Drake's diversity as an artist. With this track, he sings about a girl he feels could do a lot better than she is now.
One of the main positives of "Take Care" is that it is not largely about degrading women and money. On the contrary, "Shot For Me" features a section about a girl that goes "May your neighbors respect you, trouble neglect you, angels protect you, and heaven accept you." That is not typical in a lot of rap today. Obviously there is some exceptions, such as "Headlines" which is a joyful song where Drake raps about his fame and fortune as compared to the slow and sentimental beats of much of the rest of the album. Even when Drake raps about sex, he raps about life and relationships (mainly failed ones). It is not that the album is depressing; it is just mature and will most likely feel relatable for a lot of people.
The album does falter in some areas. "Lord Knows" featuring Rich Ross falls flat because Ross does not add anything to the song. But as a whole, the album is highly experimental and diverse, and this is respectable. Stevie Wonder is even featured with a harmonica section, which is akin to something Kanye West would do. On top of all this, the artist still spits some impressive raps on tracks like "Underground Kings" and "Make Me Proud."
The album closes with another The Weeknd-assisted track, "The Ride." He ends with "My sophomore they was all for it, they all saw it. My juniors and senior will only get meaner." Despite all the heartbreak he sings and raps about on the album, he ends on a confidence trip that is also familiar with the artist. "Take Care" is a fantastic album, and hip-hop fans should not pass it up because of the R&B sound. Drake had no fear going into this album, and for that, we should be grateful.