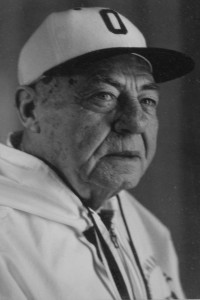 Edward Austin Sheldon is not the only famous individual who has graced Oswego with his presence over the past 150 years. While Sheldon founded Oswego State back in 1861, another man put its athletic programs on the map while also serving his country during both World Wars.
Max Ziel did just about everything one could possibly do athletically during his long tenure at Oswego State that started back in 1921. In his 36 years at the college, Ziel served as the head coach for the football, basketball and baseball programs. He also became the college's athletic director on Oct. 4, 1921.
"He's a very influential person," Grace Maxon, Ziel's great granddaughter said. "He loved sports and was a great coach."
But his coaching career did not begin at Oswego State. In fact, his life in general did not even begin in the United States. Ziel spent the first few years of his life in Germany with his father, John, brother, Albert and mother, Maria Andreof-Ziel, who was a concert pianist from Russia. Ziel and his family immigrated to Alabama, where he would call Birmingham home through childhood.
Ziel attended high school in Alabama, where he would go on to be a four-letter athlete, but left a year early to attend Howard College on scholarship in 1911. However, Ziel would lose his scholarship during the summer of 1912 when he admitted to playing for pay in the Appalachian baseball league. Playing for play in a semi-professional sports league was prohibited while playing athletics at Howard. His scholarship was thereby revoked since his summer baseball experience had cost him his amateur status at the college.
"Professionally, I'm not a professional," Ziel told The Oswegonian during a 1981 interview. "I made the same amount I made at Howard."
Ziel enrolled at Springfield College in Massachusetts in 1913 after spending a year coaching baseball and basketball at Bingham Military School in North Carolina. While at Springfield College, Ziel was twice voted as the team's most valuable player in 1915 and 1916. Ziel graduated in 1917 with a degree in physical education.
One month following his graduation, the United States entered World War I in Europe and Ziel enlisted in the army on Sept. 22, 1917, where he would serve as a private for roughly a year. Ziel became a commissioned second lieutenant on Sept. 16, 1918. Despite serving in the army, Ziel never saw action in Europe. Instead his talents were used stateside, as he was put in charge of instructing men on physical fitness, while serving as the camp's quarterback and coach.
"Out of all of it I think he really enjoyed the physical fitness aspect of [playing sports], which is where the military comes into play because that's where they really used him," Maxon said.
In 1919, Ziel left the army and began his coaching career at Hamilton College (known today as Samford University). Ziel coached Hamilton for two years before accepting a variety of head coaching jobs at Oswego State in 1921. When Ziel coached at the college, it was not known at the time as Oswego State. Instead the college was referred to as Oswego Normal School.
Ziel first organized the first and only football program in Oswego State's history. Of the 50 students who attended Oswego Normal, 17 of them signed up for the football team.
In 1930, Ziel made history by hosting the first-ever night football game in central New York, playing under the lights at Fort Ontario. The football program would not last long, as it was discontinued in 1933 due to financial reasoning.
"Just as we were beginning to get the manpower, we were forced to give it up," Ziel told The Oswegonian. "Jealousy is a green-eyed monster."
With football out of the picture, Ziel turned to basketball and built the program into a powerhouse in 1936. Known as the "Zielmen" due to a lack of a nickname at Oswego Normal, the basketball team finished with a 14-2 overall record.
While coaching at Oswego Normal in 1938, Ziel was approached by the management of Oswego's professional baseball team, known as the Netherlands, who were the Class C affiliate of the Cleveland Indians. They wanted Ziel to be the team's new head coach after former head coach Riley Parker stepped down Ziel accepted the position at the tender age of 45 and went on to win his first game as manager, defeating the Ottawa Braves, 4-1, on Aug. 12, 1938. Ziel even placed himself in the lineup to get the final at bat of the game for his team.
Ziel's coaching at Oswego Normal would take a backseat to World War II in 1940, when he left the college to re-enlist in the army. Ziel had served as a commanding officer of Company D 108th New York Infantry starting in 1924 and was promoted to captain in 1930. But Ziel would be dismissed on Dec. 12, 1941 and placed in the Army Air Corp because he was over the army age limit for commanding infantry. Ziel was then stationed at Romulus Army Air Field near Detroit, Mich., where his duties included base defense commander, base survey officer, special service officer and physical and recreational officer. On Sept. 29, 1942 Ziel was promoted from captain to Major. Ziel and served 4.5 years in World War II before resuming his duties as coach at Oswego Normal.
Ziel went on to coach Oswego Normal for the next 11 years, stepping down as the head coach of the basketball program on Jan. 10, 1953. He would eventually retire in 1957.
A year later Ziel would receive the key to the city during trophy presentations following the New York Invitational basketball tournament on March 2, 1958. Ziel also received a lifetime membership in the Basketball Hall of Fame on Feb. 21, 1967 and was awarded the "Man of the Year" award in 1960.
Perhaps the greatest honor was the renaming of Sheldon Hall to Max Ziel Gymnasium, to which it remains named today. In 1980, as part of the anniversary celebration of Oswego's Company D 108th Infantry, Senator H. Douglas Barclay passed a resolution through the state Senate making the name change official. Ziel, in his late 80s at the time, was present at the ceremony.
"Max is the perfect personification of town and gown," College Council Chairwoman Joan Fitzgibbons said during the ceremony.
Ziel was a World War I and World War II veteran, a successful coach at Oswego Normal and he was also an inventor, as he created the "Play Ball" game. He secured a patent in the late 1930s and not long after that was being used by the New York Yankees during their spring training in St. Petersburg. Ziel enlisted the help of technical education students to manufacture his invention out of his East Utica Steet home. His invention consisted of a backdrop with the image of a catcher bent down in the catching position with a batter off to the right side. There were five targets on the backdrop: one on each leg of the catcher, one in the catcher's glove and one on each side just above the catcher's mask.
"I'm not sure where it was sparked from, but I know he used it for training," Maxon said. "It looks like a bean bag toss. It's very precise. For baseball, it's kind of incredible to use that as a training tool."
While Ziel passed away in 1987, his mark on Oswego State athletics will forever be immortalized in the Oswego community. He was considered to be a legend among his peers and was beloved by friends and family. This year at the annual men's basketball classic that bears his name on the court that too bears his name, there will be three generations of Ziel's present, as his legacy lives on through his family.