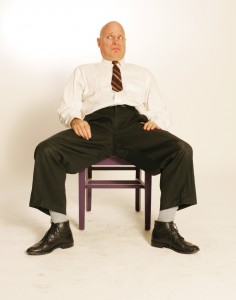 With the upcoming world premiere of the third part of his "Lithuanian Trilogy" right around the corner, Paul Rajeckas takes the time to come to Oswego State to perform the critically acclaimed second installment of the trilogy "Love Cures Cancer."
Q: What was your inspiration for the "Lithuanian Trilogy?" Was any of it from personal life or experience?
A: I am the son of Lithuanian immigrants who came to America after being displaced from their countries during World War II. Although I was born in the USA my childhood was influenced by two different cultures, an experience familiar to any first-generation immigrant American. The plays are my stories and the stories of those people.
Q: You portray every character on stage. What is it like to perform a one-man show? What are some of its benefits over performing with a group?
A: Performing a one-person show is like walking a tightrope. There are no safety nets to rescue you if lines are forgotten, mistakes happen on stage or you are not feeling well. On the other hand, doing a one-person play is empowering because the experience you provide for the audience is in your hands.
Q: The trilogy was written by George Chieffet, but do you have any say in what he writes? Is it more of a collaboration effort?
A: "Notes to the Motherland" was co-written with Mr. Chieffet. "Love Cures Cancer" is his script but I contributed many ideas that helped shape the overall story. After awhile you lose count of who did and said what. To quote Shakespeare, "the plays the thing" and we agreed long ago to make telling a great story our ultimate goal.
Q: Of the three installments of your trilogy, which has been your favorite to perform? Why?
A: They all are different in the preparation they require. Each play has its own challenges for the actor and equally unique satisfactions.
Q: Your Facebook biography says that you are both an artist and an educator. What would you like students to learn from your performances? Is there a common theme or message running through all of them?
A: I went to SUNY Stony Brook as a pre-med student. It was those supposed three credit "filler" courses that changed my life. Now I realize it was the teachers that inspired me. I never forgot that lesson and pass it on every chance I get.
Q: Since the third installment of the trilogy, "My Lithuanian Sweetheart," is completed; what are some of your future projects?
A: I have met some extraordinary actors while directing "Lithuanian Sweetheart." My next project will be to write a story for them. Of course I will include a little part for me as well.
Rajeckas will perform "Love Cures Cancer" on Wednesday, Nov. 9, and Thursday, Nov. 10 at 7:30pm in Tyler Hall's Waterman Theatre.