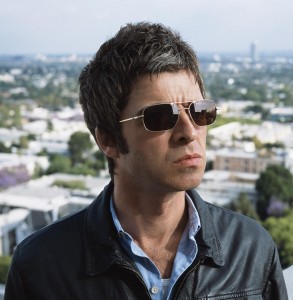 The constant bickering and fighting between Oasis brothers Noel and Liam Gallagher has become one of the most notorious singer vs. songwriter feuds in modern rock and roll. After propelling to worldwide fame with their 1994's "Definitely Maybe" and its classic 1995 follow-up "(What's the Story) Morning Glory?" Oasis seemed to slide into years of mediocrity, break-up rumors and endless feuding between Noel and Liam. In 2009, the band officially called it quits with Noel stating he "could not go on working with Liam a day longer." Liam and other former Oasis members went on to form Beady Eye, and Noel is now releasing his first solo album under the moniker, "Noel Gallagher's High Flying Birds."
"High Flying Birds" feels exactly like a post break-up album, with Noel trying to emulate the slightly more stripped down sound he tried to get Liam to embrace for years. The main problem with that though is Noel is still a sucker for classic stadium rock structure, and never seems fully ready to stray from that style. "AKA…What a Life!" is a respectable stab at an electro-dance track, yet plays it too safe to ever make a lasting impression.
On the other hand, it does seem that Noel is in top form when he does what he knows best. Though it borrows heavily from "Wonderwall," "If I Had a Gun…" is a simple, head-swaying delight. "Stop the Clocks," which would not sound out of place on "Morning Glory," is a pleasant build-up to a grand explosion of psychedelic sounds.
Mostly though, "High Flying Birds" is more of the same. Noel's concise, observational and sometimes-corny lyrics are still in place. The only difference this time around though is Liam is not around to make them sound meaningful. Though Noel has proven with past Oasis gems like "Don't Look Back in Anger" that he can carry a tune, his more passive vocals simply cannot compete with Liam's range.
While there is nothing offensively bad about the collection of songs on "High Flying Birds," most of them leave a feeling of indifference, reminiscent of Oasis' uninspiring back catalog. Despite Noel's clearly ambitious attitude, the ultimate downfall of the album is the unshakable feeling that something is missing. When they were not at each other's throats, the Gallagher brothers proved they were a dynamic team.
Like countless other solo efforts, Noel's falls short primarily because one person usually does not make a band what it is. While he has mastered the craft of stadium-level songwriting, "Noel Gallagher's High Flying Birds" mostly sounds like Noel trying to prove he can do it without his little brother, while waiting for an inevitable Oasis reunion.