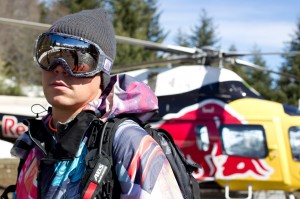 A film from the energy drink company Red Bull will be presented at Oswego State as part of its premier tour.
The film, entitled "The Art of FLIGHT," follows a group of professional skiers and snowboarders as they attempt to push their abilities to their limits. It will be shown Thursday to help expand the Red Bull branch at Oswego.
The event, co-sponsored by the ski and snowboarding club with the film club will show the documentary directed by "action sports auteur" Curt Morgan ("That's It, That's All") and focusing on ace snowboarder Travis Rice. The documentary covers a two-year journey filmed on high-quality camera equipment and presented in full Dolby surround sound.
"Through the riders' full immersion into the making of the film, we are able to show in the truest way what it is like it [sic] for us to travel to some of the most remote places on Earth and search out the most dynamic terrain and conditions," Rice said in a press release.
Among the other athletes in the film are Olympic medalist Scotty Lago, Nicholas Muller, DCP, Jeremy Jones, John Jackson, Eero Niemela, Jake Blauvelt, and Mark Landvik.
The film was shot on-location in Chile, Alaska, Wyoming, Colorado, the Andes Mountains, and various areas within British Columbia, including the Kootenay Mountains, Revelstoke, and Goat Range.
"The Art of FLIGHT" was produced by both Red Bull Media House and Brain Farm Digital Cinema. Red Bull Media House was originally formed in Austria in 2007 for the purpose of developing films and other media that fit within the Red Bull brand. Brain Farm is a production company owned by Morgan that uses special high-quality cameras and custom vehicles to allow for filming in extreme conditions.
The opportunity to premiere this film at Oswego State is a huge privilege, according to Ski and Snowboarding Club Vice President Tom Bijesse.
"Red Bull puts out their one big film, and this is it," Bijesse said.
Bijesse also serves as the Student Brand Manager for Red Bull at Oswego State, whose job is to promote the Red Bull brand by hosting on-campus events and helping out at parties by passing out cans of Red Bull. Having already hosted a movie premiere in October, Bijesse also hopes to have similar events in the future, and plans to further promote Red Bull by passing out free cans during finals week.
The decision to work with the film club to set up the event was made following the Student Involvement Fair in September, where the two groups showed a mutual interest in working with each other.
"We talked, and asked if they wanted to be the co-sponsor on this, and they were all for it," Bijesse said.
Film Club Public Relations Coordinator Kylie Genter expressed her gratitude toward Bijesse and the Ski Club for allowing both groups to work together.
"Working with the Ski and Snowboarding Club has been great," Genter said. "They've done a lot of hard work here at Oswego and we wanted to help in any way we could."
Genter also stressed the Film Club's enthusiasm in seeing the film premiered at Oswego State.
"I hope we get to do more stuff like this," Genter said. "Film is a medium that obviously can highlight the beauty or magnitude of an activity like skiing and snowboarding."
"The Art of FLIGHT" premieres Thursday, Nov. 10th at 7 p.m. in the Campus Center Auditorium. Admission is free, and free cans of Red Bull will be available. There will also be prize drawings for Red Bull-branded merchandise, and all in attendance will receive a three-month subscription to The Red Bulletin.