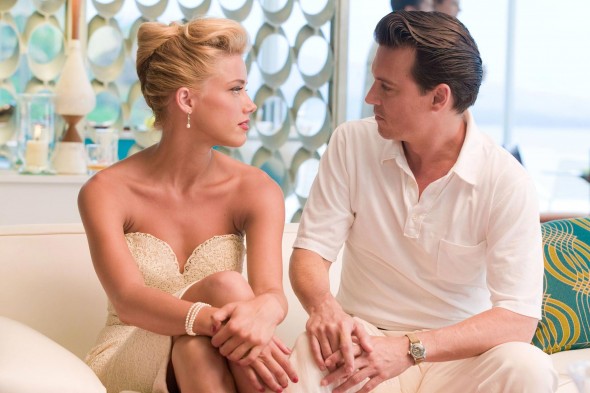 "The Rum Diary," based on a novel written by the late American Gonzo journalist Hunter S. Thompson, proved to perpetuate his dry wit and comical absurdity.
Bruce Robinson took on the task of writing the screenplay and directing the film. The original book was written in the early 1960s, but was not published until the late 90s. With a slew of publication rejection letters, perhaps Thompson attested to why he was not a fiction writer. Yet the plotline divulges all the juicy elements that may spark one's interest, such as crime, corruption, drugs and sex. Dug out of the vault over 40 years later, the movie blends these well.
Johnny Depp ("Pirates of the Caribbean") plays the lead role of Paul Kemp, a failed novelist-turned-journalist from New York, who moves to San Juan, Puerto Rico. There, he takes on the chore of working for the old-hand editor, Lotterman (Richard Jenkins, "Hall Pass") at the San Juan Star. Kemp's character reflects the general attitude and cynicism of a Thompson-like persona. But his efforts in succeeding as a professional journalist set his disposition back to being a bit reserved and subservient, atypical to Thompson.
Kemp is dropped into a news organization full of boozehounds, deceit and trivial assignments. He quickly realizes his true intent at bringing about sensational reporting is buried as the chief editor pushes leads on sightseeing attractions, gambling and horoscopes. His inner conflict directs him to explore the island himself, slowly uncovering the reality of imposed American tourism upon the drowning native culture. In the process, Kemp befriends an alcoholic photographer (Michael Rispoli, "Union Square") by the name of Bob Sala. The relationship takes on dynamic as the two involve themselves in drunken excursions and mischievous mishaps.
Depp's character witnesses the curtain of corruption and disillusionment as more and more rum is taken in like water. The plotline leads him to crossing paths with greedy bureaucratic realtors who aim to exploit his journalistic skills for their own marketing needs. A businessman known as Sanderson (Aaron Eckhart, "The Dark Knight") leads the group. At first, Kemp is skeptical, but after a generous bailout preceding one of his and Sala's mishaps, he is indebted to Sanderson's cause. Eckhart adds the flavor of an antagonist to the movie, furthering conflict. Although his motive does not lead the audience to believe he is dangerous, it is obvious that he should not be trusted.
Eckhart's character does not do much to define Kemp's independence. His unorthodox intentions weigh heavy, causing Kemp to obey Sanderson's wishes. In fact, Kemp seems to fall into each pitfall of every supporting character's role. Sala and his roommate Moberg (Giovanni Ribisi, "Avatar") give more encouragement, acting as friends who share the same scornful views of the paper. But Kemp is easily led around by their shenanigans, causing him more trouble than he began with. Then there is Sanderson's fiancée, Chenault (Amber Heard, "Drive Angry"). This seductress adds everything sexy and glamorous that such a movie of crime and crookedness needs. She prevails in keeping the sexual tension alive, stringing the audience through liquor and fast cars. Yet once again, Kemp is lured into her vice-like grip and pulled away from his original objective.
The film does a terrific job in leading an audience into the climax, yet all seems to drop off from there. Many critics argue that just as the book, the story is lacking in a central theme. Pieces and segments are tossed together, giving into a lackluster ending. Areas of conflict come and go, as do surprises. Even the issue of infidelity is dealt with in a mild manner. Yet the movie does move along at a good pace in chronological order. There are very few dull moments, if any. Thompson's mystique and charisma is portrayed well, as he poured a little piece of himself into each character. Among the hype of money, seduction, immorality and manipulation, a journalist learns to persevere and choose his words, either for the benefit of others or to bring them down.