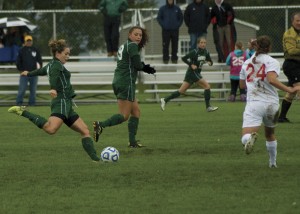 The Oswego State women's soccer team had a lot to look forward to coming into the 2011 season. The team knew that it had a budding star in sophomore forward Nikki Liadka, and great leadership under captains Shelly Bateman, Laura Ambron and Stephanie San Antonio.
Head coach Brian McGrane had urged his team to be more aggressive on offense, which would in turn improve the goal scoring coming off a 7-10 season in which the Lakers won just one conference game.
This season, the Lakers started off the year impressively, as they defeated Juniata 3-2, in the season opener and then looked extremely strong in a 4-0 dismantling on the road at Alfred State. Both games were part of the Alfred Tournament. After losing a 3-2 double overtime heartbreaker to Hamilton College, the Lakers rebounded by winning four consecutive games.
At home against SUNY Cobleskill, the Lakers played their most complete match of the season, shutting out the Fighting Tigers 6-0. McGrane was pleased with his team's effort
"Cobleskill never really threatened us," he said. "We need to continue to play like this for the rest of the year."
However, the difficult task of winning conference matches haunted the team again, as it fell victim in another double-overtime loss, this time to SUNY Oneonta. After being shutout 3-0 by SUNY New Paltz, the Lakers came out determined to not let their losing streak reach three games.
Liadka and Bateman carried the team to a 2-1 victory at home against SUNY Potsdam. The Lakers were unable to build on that victory, as they fell on Oct. 1 against their biggest rivals, SUNY Plattsburgh at home. The Cardinals' offense was on the attack for most of the game, as they defeated Oswego State for the second consecutive year, by a score of 4-1.
The Lakers' season would take a turn for the worse after the Plattsburgh loss, as the team finished their last nine games with just three wins, ending up with a record of 10-8.
Although the Lakers finished two games above .500, their 2-7 conference record did not qualify them for the SUNYAC playoffs.
The Lakers ended their season on a positive note however, defeating Clarkson 2-0 behind two goals from junior forward Kassie Kleine.
The Lakers did reach a milestone this year, as they reached double-digit wins for the first time in over a decade. The Lakers are a young team, and a new recruiting class combined with the returning players, the team could become a legitimate threat in the SUNYAC.