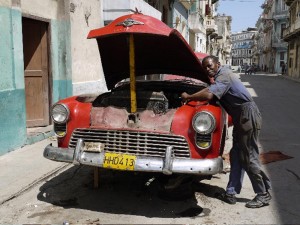 The opening reception for professors Juan Perdiguero and Julieve Jubin's art showcase Friday brought a crowd of students and professors alike. Perdiguero displayed pieces that combined photography and ink work, while professor Jubin exhibited photographs taken during a trip to Cuba.
The reception was set up with a general theme of Latin heritage, where, before the artist talks, there was a multi-song performance by the Oswego State Latin Jazz Ensemble. The crowds walking into Tyler Hall for the showcase stopped and applauded the ensemble's enthusiastic play.
"This is a culmination of 25 years of experimentation," Perdiguero said. "I'm always thinking of human emotions."
His exhibition in particular is titled "Animalidad." With installments of 26 drawings over a period of six months, it consumed most of his sabbatical time, according to Perdiguero. This time was spent around his native origins of Madrid, Spain.
Perdiguero says his work is based on existentialism. He uses the animal image because it is distant to us. Yet he agrees that people have a connection to certain animals, and that is why he uses them.
Jubin's showcase, entitled "Centro Habana 2011," was put together as she went out on her sabbatical in Cuba last spring. Although the photographic environment was not what most would call glamorous, the photos showed the true, everyday lifestyle of Cuba.
"While I was there, I was very surprised to learn and experience the kind of hospitality and warmth of the Cuban people," Jubin said.
Many of the photos were displayed on a virtual slideshow. Jubin said she took about 5,000 photos within the one week she stayed in Cuba. Brought together, the series gave an in-depth look into what Cubans liked. The Cuban populous treasured what they have: the style of clothing, music and vehicles that were trendy in America's past.
The exhibition event will continue at Tyler Hall Art Gallery's north gallery until Nov. 19.