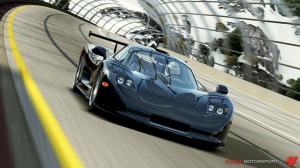 A game that car lovers and non-car lovers alike can enjoy, "Forza Motorsport 4," encompasses the cult of cars better than any other racing game on the market.
"Forza 4" also accommodates for the less skilled players, who have little to no experience in racing games. Starting the game up for the first time, players take part on a test track to show off their experience (or lack there of). After that, the game adjusts the difficulty settings along with adding or removing driving assists that help less experienced players. Upon improving in the game, players can increase the difficulty level, as well as removing assists to add to the challenge.
"Forza 4" showcases over 500 vehicles (with more available for download) from over 80 manufactures around the world, which can all be upgraded to the player's liking, and they do this without leaving a single detail unpolished. Every single vehicle and track has been upgraded with the new lighting engine and a slight graphics upgrade, allowing for pristine detail that one must see to believe. To showcase these graphics and the lighting, the team at Turn 10 Studios has added the Autovista, which showcases hyper detailed models of some of the world's exotic vehicles while having the narrator Peter Egan (and even UK "Top Gear's" Jeremy Clarkson) giving detailed descriptions of the vehicles. Turn 10 left no stone unturned to give players one of the best visual experiences in gaming today.
Not only were the visuals were upgraded, but the game sounds better than it has ever before. Upgrading vehicle sounds projects a symphony of violence and power as players speed down the track, making it nearly impossible to turn the volume down. The opponent AI was also upgraded. Opponents now adjust their car according to how well they did in previous races, and especially on how well you did in the last race. Unlike previous "Forza" titles where players could easily get ahead and stay miles ahead of opponents, it is much more difficult to do that now, creating a much more realistic racing experience. Since it was published by Microsoft Studios, "Forza 4" has been equipped with Kinect functionality. Allowing players to move their head to look around the interior of the car while driving is a great way to include a realistic feeling (and a great way to become distracted and crash into a wall). Kinect functionality has also been included in the Autovista mode, but it is finicky at times, and is much easier to use a controller.
"Forza 4" also introduces a revamped multiplayer system. Similar to previous "Forza" titles, players are able to race against others from around the world in different races on all the tracks within the game in different race modes like Circuits and Sprints. One new multiplayer mode is "Rivals," which is a one on one race where players can find others to race against or race against players from their club (which players can join or create their own) for extra money, experience points and bragging rights.
"Forza Motorsport 4" is a gaming experience like no other. With upgraded graphics and sounds, enhanced AI opponents and a well thought out and fulfilling multiplayer system, "Forza 4" has an extremely high replay value that all players can enjoy.