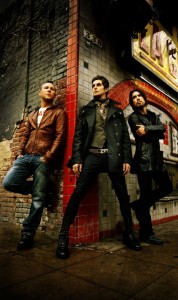 Several elements made Jane's Addiction one of the great rock bands of the late '80s and early '90s: their Led Zeppelin-like swagger, lead singer Perry Farrell's frenzied, caterwauling vocals, the Hendrix-esque guitar histrionics of Dave Navarro and the heavy-yet-melodic rhythm section of former bassist Eric Avery and drummer Stephen Perkins. 1988's "Nothing Shocking" and 1990's "Ritual de lo Habitual" are thrilling examples of this alchemy, bridging the gap between funk, metal and what would come to be known as alternative rock.
Unfortunately, those elements are almost nowhere to be found on Jane's Addiction's latest album, "The Great Escape Artist." The group, now with TV on the Radio's Dave Sitek filling in on bass, has thrown away each of those assets to create an album of repetitive, bland and downright soulless Muzak.
It doesn't help that "Escape Artist," along with 2003's "Strays," is the only music Jane's Addiction have made in 21 years. These long hiatuses were riddled with turmoil¸ lineup changes and dead-end projects that were started but led to nothing. It is extremely difficult for a band to succeed when there is no constant drive to create new music and persevere through internal issues. And that is only part of the reason why this album is such a failure.
One fault is in the way the album actually sounds. Jane's Addiction's music has always had a grand-scale feel to it, which this album tries to replicate. But what sounds refreshing on the opening track, "Underground," with its epic-sounding production and a fiery solo by Navarro, sounds stale after nine more examples of the same thing. There is nothing unique about tracks like the single "Irresistible Force," or anything else on the album for that matter.
It is difficult to say what is wrong with each song on the album because they blend into each other to create a pile of over-produced mush. If it was not for the fact that Farrell's vocals sound so unique, it would be difficult to even tell what band this was. If the goal of this album was to try and replicate the dozens of modern rock bands dominating the radio, then it actually does succeed at something. It is fine if Jane's Addiction does not want to repeat past triumphs, but that is no excuse to put out music this uninspired. It is one thing to put out new music that tries to push boundaries and winds up failing.
"The Great Escape Artist" is a massive disappointment. "The Great Escape Artist" is just going through the motions and a huge artistic step backwards for the band. The album is a sort of tease: a collection of well-produced smoke with absolutely no fire behind it.