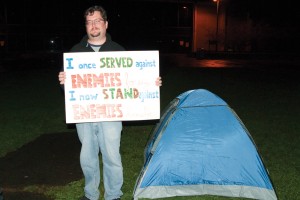 As part of the Occupy Oswego movement, students, faculty and staff pitched tents in the academic quad Wednesday night.
Six tents were set up in the quad and approximately 15 people spent the night, said Maureen Curtin, an English professor and one of the coordinators of the campout.
The campout started after a teach-in and discussion was held in Hart Hall. Approximately 60 students attended the event, which was facilitated by English Department Chair Bennet Schaber and Alex Lykins, co-president of Students For Global Change.
"We, the faculty, don't want this to be about us," Curtin said. "We want students to find their voice and decide for themselves."
As of now the group plans to remain camped out until Friday.
Students and staff brought supplies to the group outside. Psychology professor Rebecca Burch donated rain ponchos, while President Deborah Stanley sent snacks.
Matthew Harmer, a senior English major, pitched a tent and planned on staying as long as the rest of the group did.
"Really I don't have demands," Harmer said. "I just want to help people who have no voice have a voice. Like every movement, I hope it grows."
Like the protest held last week, students and staff in attendance spoke of an end to corporate influence in politics and lower tuition rates, among other issues.
"A university education should be free," Schaber said. "And if it is not free, then we should demand a mandatory living wage commensurate with the costs of sending young people to university.. Every Wal-Mart or McDonalds employee should be paid enough to send her children to university without incurring any debt."
Students For Global Change member Josh Clark planned on joining the camp out on Thursday night. Clark, a senior adolescent education major, was pleased to see students participating in activism.
his is the first time in four years I've seen this campus pissed about something," Clark said.
Clark also spoke of the need to end corporate influence in politics.
"I'd love to see a 28th amendment made that would stop corporations from making government donations," he said.
Economics professor Elizabeth Schmitt weighed in on why the protests are occurring. She noted that while the recession technically ended in 2009, the United States has not fully recovered.
"They're struggling and they're angry," Schmitt said. "There's a growing economic inequality in the United States."
Schmitt cited the market economy as the cause for wealth inequalities.
"In any free market economy you're going to see economic inequality," Schmitt said. "Equality of opportunity doesn't necessarily mean equality of results."
While there is a great demand for the rich to pay higher taxes, they already pay a high amount of the income tax.
"The richest people in the United States do pay more of the income tax," Schmitt said. "Most of the burden for revenue falls on income tax."
As for students, they are being forced to bear more of their education costs, Schmitt said, and some are uncertain what reward exists for them when they complete their course of study. In New York, when suggestions are made to cut Medicaid or K-12 education, legislators are met with resistance from their constituents. The same reaction, however, has not been inspired when cuts are made to SUNY.
"Peaceful protests in the 1960s affected huge amounts of structural change," Schmitt said.
The protest has the support of University Police, who worked with the Occupy Oswego organizers to reserve the space for the event.
"The University Police's role in such events is to protect the registered group's ability to exercise their right to free speech at the same time that we insure a peaceful and orderly event that does not disturb classroom instruction," U.P. Police Chief Cynthia Adam said. "The Occupy Oswego group followed the college guidelines regarding reserving the space in advance and the event went very well."
Julie Blissert, director of Public Affairs, said the university would have no comment on the protests.
"The college has no official statement on this at this time, and so I have nothing to share with you beyond that these activities represent just one expression of our college's community engagement, which is one of the pillars of "Engaging Challenge: The Sesquicentennial Plan," Blissert said.