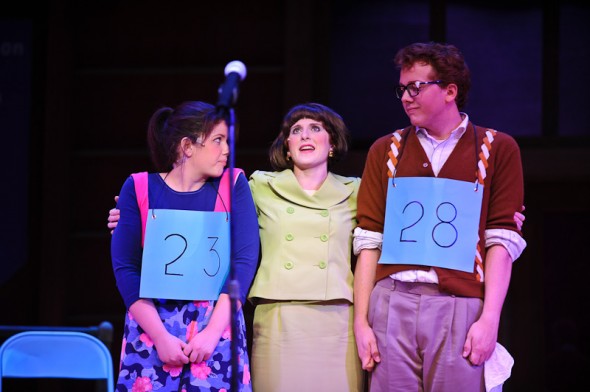 "The 25th Annual Putam County Spelling Bee," may not sound like an interesting title for a musical. So it is a welcome surprise that the musical is a fun and energetic show with plenty of laughs. While it definitely is not for everybody, anyone who wants a good laugh should be willing to give it a shot.
"Putnam" actually is not much different from some other shows as far as plot goes. Musicals of this type are usually pretty random in their presentation, but most musical numbers cannot help but be random. In "Putnam's" case, the setting does not really help matters. The entire play takes place during a spelling bee at the Putnam County Middle School. How the actual story plays out deals with each individual's turn at the microphone. Each character gets his or her spotlight at certain points, and random, humorous events help to temper some of the monotony.
Outside of the comedy, there is a deeper meaning. But like some other musicals, it comes off like an elementary kids' show lesson, with typical messages of perseverance, and that winning is not everything. Although the show seems kind of kiddish at times, it is clearly meant for an older audience. Gay rights play a part, rather comedically in fact, as one character leads the gay rights equality club and has two fathers. The show never forces any beliefs one way or the other on you. So there is no need to go into the show cynically assuming there is some kind of hidden liberal agenda behind it. It is a musical, and it is meant to be enjoyed as such. Besides the gay undertones, there is also swearing, a character singing about getting an erection and an appearance by Jesus Christ.
It is a testament to the ability of director Mark Cole and the actors for making a musical set entirely around a spelling bee so entertaining. "The 25th Annual Putnam County Spelling Bee" is executed with plenty of energy and excitement. Cole cleverly manages a lot of the scenes. There is not a lot involved in the scene changing aspect since there is generally one setting, but Cole makes storytelling devices, like flashbacks, swift and painless. There was also good interaction with the audience, which helped create a better show.
As a group, the actors work really well together. There is one scene in particular which is basically moving in fast-forward and the characters are spelling words one after another. This difficult scene was a great showcase of the ensemble's talent.
Individually, the actors are even better. Ariel Marcus plays Rona Lisa and Aaron Landraville plays Doug Panch. These two characters judge the bee and are polar opposites. Panch is a firm believer in the rules and Rona is a little more laid back. The two work well together, with Marcus standing out as the best singer in the bunch. The other authoratative figure is Dan Williams as Mitch Mahoney, the "comfort" counselor. Mitch has a smaller role compared to the rest of the main cast but is no less effective.
The spelling bee contestants are comprised of Chip Tolentino (Erick Jonathan Shuler), Logainne Schwarzy (Jennifer Pratt), Leaf Conybear (Dylan Duffy), William Barfee (Nathan Edwin Keep), Marcy Park (Jessica Quindlen), and Olive Ostrovskyy (Jaclyn Mienkiewicz). Chip is involved in two of the funniest scenes in the show. Logainne, the leader of the gay rights club, is likable throughout with her speech problem and peppy attitude, while Barfee is probably the least likable. But that is the character, and Keep plays it well. Conybear is the odd character, the one not even supposed to be a contestant. Duffy's strength probably lies in his expressions, whether it is the way he appears when spelling a tough word, or how he stares at Barfee's magic foot. Marcy is not originally from the county and skipped 4th and 5th grade. She seems to be embarassed by her intelligence. Ostrovskyy is the most sympathetic of the group, as her mother is on a "spiritual journey" and her father does not show up to watch her. A heartfelt musical number and one that will stand out is "The I Love You Song," with Ostrovskyy and her parents.
While there is not much dancing involved in the show, the dancing that is in the show is very well done. In addition, the singing is spot-on. Overall, "The 25th Annual Putam County Spelling Bee" is worth seeing because it is funny and energetic. It may take some getting used to at first to be honest, because the premise is so strange and random. But it will quickly pull in anyone who sees it. while the ending kind of a disappointment, it never loses the viewer's attention. "The 25th Putnam County Spelling Bee" is a good time.
The performance will run on Oct. 14, 15, 21 and 22 at 8 p.m. in the Waterman Theatre in Tyler Hall and will conclude with an Oct. 23 matinee showing at 2:30 p.m. Tickets are $7 for Oswego State students, $12 for faculty, staff and seniors and $15 for general admission.