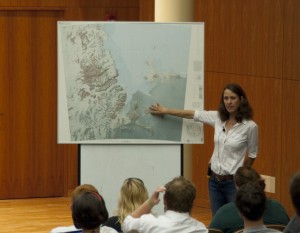 Editor and author Susan Fox Rogers spoke about her experiences in Antarctica as part of the Living Writers Series on Monday.
Rogers spent six weeks in Antarctica with a grant from the National Science Foundation's Antarctic Artists and Writers Program compiling stories for her anthology "Antarctica: Life on the Ice."
"To be able to write, you have to have something to write about," Rogers said. "I could write about what I was interested in doing which was, outdoors."
"My proposal was to collect stories similar to what I've done on Alaska," Rogers said. "What interests me about living in a big place is that you still have to brush your teeth before going to bed at night. I wanted to do the same thing for the Antarctic."
From tales Rogers' father told her of the famous Antarctic explorer Robert Falcon Scott, with what she referred to as enormous scale and heroism, wanted to experience the Antarctic for herself and make her stories out of it.
For her book "Alaska Passages: 20 Voices from Above the 54th Parallel," Rogers felt the need to spend some time with the people whose stories she was compiling, and to her surprise she said the people who go to the Antarctic were remarkable storytellers.
To tell a story you actually have to have material, Rogers said. "You need to write a great book that your best friend wants to read," Rogers said. "Audience is incredibly important, even at a young age."