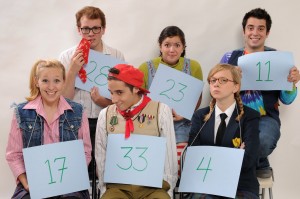 A performance of the Grammy-nominated Broadway musical, "The 25th Annual Putnam County Spelling Bee," can only spell good times for Oswego State. Tensions are high in Putnam as six former spelling bee champions, as well as prospective champions, compete for the recognition as best speller.
The competitors include Erik Shuler as Chip Tolentino, Jennifer Pratt as Logaine Schwarzandgrubeniere, Dylan Duffy as Leaf Coneybear, Nathan Keep as William Barfee, Jessica Quindlen as Marcy Park, and Jaclyn Mienkiewicz as Olive Ostrovsky. The play also stars Ariel Marcus, as the bee's host Rona Lisa Pereti, Aaron Londraville as Doug Panch the word pronouncer and Dan Williams as Mitch Mahoney, a counselor for people who have been knocked out of the bee. Four audience members will be selected during each show to participate in the performance via improvisation as a means to incorporate spontaneity.
The show is directed by theatre professor Mark Cole and performances will take place at Waterman Theatre in Tyler Hall at 8 p.m. the weekend of Oct. 14 and 15 and Oct. 21 and 22. A preview performance will be held on Thursday Oct. 13 and the finale at 2:30 p.m. on Oct. 23.
The play is suggested for ages 12 and older and ticket prices are $15 for the general public, $12 for children 17 and younger, seniors 62 and older and Oswego State faculty and staff, and $7 for students. Preview tickets are on sale for $5. Tickets are available at all Oswego State box offices, online at http://tickets.oswego.edu, or by phone at 312-2141. Parking is free in campus lots on weekends and evenings for people attending the play.