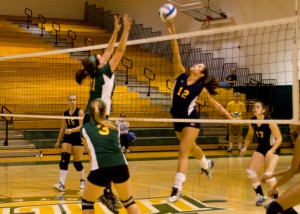 The Oswego State women's volleyball team was unable to come up with a victory, as the team fell to Cazenovia College, 3-1, on Tuesday night at Max Ziel Gymnasium.
The Lakers (3-13, 0-4 SUNYAC) were playing their first game under interim head coach Kaylin Brainerd, after former head coach Betsy Hayden was let go on Monday evening.
The team came out very sluggish in the first set, as the Wildcats (6-11) took an early 5-0 lead. Oswego State was able to climb within two points, but Cazenovia built its lead back up to 10-5 and did not let the Lakers come any closer, as the Wildcats took the set 25-15.
The Lakers came out and played like a much different team in the second set, going on a 6-1 run to give them a 12-7 lead. During the run, sophomore captain Meaghan Puff had two kills and freshmen Sam Manicone and Lauren Weaver each had service aces.
Oswego State seemed to have the set in hand, but Cazenovia scored six unanswered points later on to climb back and tie the score at 19. Fortunately for the Lakers, they scored three of the last four points, including a kill from junior Kim Grice, to give Oswego State the 25-23 victory and the match at one set apiece.
The third set was the most competitive of the game, as neither team held a lead of more than three points at any point. The Lakers seemed poised to win their second consecutive set as they held a 23-21 lead, but the Wildcats scored three consecutive points on kills from three different players to give Cazenovia a one-point advantage.
A service error by Cazenovia senior Lauren Harder tied the game at 24 and gave the Lakers hope. Each team traded points to make it 25-25, but Oswego State lost 27-25 on a service error by freshman Christina Anderson and an attack error on Puff.
The fourth and final set was also back and forth, as the teams were tied 18-18. Cazenovia took control soon after and went on a 7-3 run to take the set and the match.
Despite the loss, Brainerd was pleased with what she saw out of her players.
"After everything that's gone on with them, I think they played extremely well," she said. "They never gave up, they do what they're told. They're a good group of girls. I thought they played very well, even in the loss."
"We all really came together," said Puff, who tied for the team-lead with eight kills. "We all played our games. I'm really impressed with everybody. We all fought it out."
Harder recorded a game-high 18 kills for the Wildcats and fellow senior teammate Carissa Wheeler had 11 kills and a game-high 22 digs.
Freshman Stephanie Bailey tied with Puff with eight kills for the Lakers. Sophomore teammate Katie Kietzmann led the team with 16 digs.
Brainerd did not attribute the loss of Hayden as a reason for the defeat.
"We're moving on, we're dealing with it now," she said. "I've stepped up and I'm taking the girls and we're going to continue that way."
"It was a little different," Puff said on not having a head coach."But Kaylin was our assistant coach, so we know who she is. We're trying our best to push through it."
The Lakers are now on a five-game losing streak, which includes four conference losses. They will look to stop their slide in Canton on Saturday with games against Utica College and SUNY Canton.