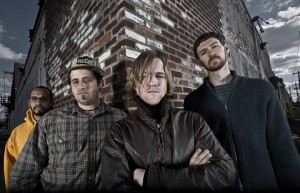 After a long break, Saves the Day finally released its latest album, "Daybreak," on September 13. The pop-punk band formed in 1994 and has steadily released albums throughout the years. Its members include lead vocalist/guitarist Chris Conley, guitarist Arun Bali, drummer Claudio Rivera, and bassist Rodrigo Palma. The band created a three-part concept album back in 2006 when they released "Sound the Alarm," which was followed by "Under the Boards" in 2007 and now "Daybreak" is the final album in their trilogy after four years of waiting.
The 11-track album starts off with the title-track "Daybreak," which consists of nearly 11 minutes of five different mini songs which seem to all fit together to tell a story. The track "Chameleon" is smooth and has a certain Latin-vibe to it that fans won't be expecting.
The album has a lot more optimistic songs and lyrics with tracks like "Deranged & Desperate" and "Living Without Love." It even delves into a gentler and more loving side that the band doesn't usually explore with the song "O." However, they keep the angst that was famous in their previous albums alive with "Z."
The band shows maturity and unpredictability in this album, leaving the listener pleasantly surprised. Right down to the closing track, "Undress Me," the band leaves its audience in awe. The song has eerie undertones yet is sweet and raw, especially when Conley sings: "Too many faces that turned away. Start to believe it's not worth the pain. But I know that I love you."
Saves the Day does not disappoint with their final album of the long-awaited finish to their trilogy. They stay true to their roots yet add the element of surprise with unexpected tracks the listener is sure to enjoy.