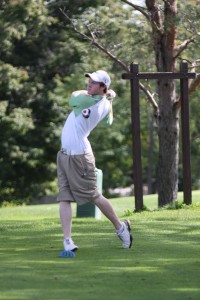 The Oswego State men's golf team was unable to defend its title at the 14th annual Oswego State Fall Invitational at Oswego Country Club on Monday.
The Lakers finished with a total score of 320, which earned them third place in the ten-team field. They finished behind winner Elmira College and SUNY Potsdam, whom recorded scores of 309 and 318, respectively.
Last year, Oswego State split into two teams and finished first and second.
Sixteen-year head coach Mike Howard was pleased with his players' performances, but he thought they still could have been better.
"I thought we played well. We battled through some situations," he said. "I'm a little disappointed, we wanted to be in contention for the team title."
Freshman Kyle Brockmann led Oswego State with a three-over par 74. He shot even par 35 on the front nine and a 39 on the back. His scored tied with freshman Evan Clarke of Elmira College for the lowest individual score.
Howard was impressed with the way Brockmann played.
"He's had a good start to his collegiate career," he said. "He played well and he hit the ball well. He is looking at a good future."
Following the completion of each team's rounds, Brockmann and Clarke went back to the ninth hole tee to play a sudden death playoff hole to determine the winner between the two.
Brockmann teed off first on the 375 yard par four and hit his driver off to the left near the trees. Clarke followed with a tee shot that also went left, but he was able to stay out of the woods and provide himself with an angle at the green.
Clarke then hit a perfect approach shot out of the rough, putting the ball on the green, less than a foot away from the hole. Brockmann followed with a shot that landed in the fairway, about 10 yards short of the green.
Knowing he had to chip the ball into the hole to remain alive in the playoff, Brockmann took dead aim at the flagstick, as the ball bounced once on the green and hit the pin, but the ball did not want to cooperate as it rolled off to the right.
Clarke then tapped in his birdie putt to seal the victory.
"It was the first time I missed with a driver all day," Brockmann said of his tee shot on the playoff hole. "I had a cool little chip. I thought it was in, but it was a cool way to end it."
Brockmann could have avoided the playoff altogether if he had made a short putt after a nice tee shot on the 163 yard par three 18th. But despite the missed opportunity and playoff loss, he is pleased with his performance.
"Toward the end of the round I was feeling pretty comfortable. I missed that putt on 18 then birdied my last hole," he said. "The start of my round was pretty good. I started off with a birdie and I was feeling pretty confident the whole time."
Brockmann impressed many of his upperclassmen teammates, including junior Nick Sterling.
"You have to be happy with the kid," he said. "I'm more than thrilled with Kyle, and I'm looking forward to seeing his growth as a player. He's got a bright future here at Oswego."
Sterling had an up and down round, finishing with a 79, which tied him for eighth overall.
"I struggled early, but I was able to bounce back and get a couple birdies and a couple pars," he said. "I heard a couple of the guys were struggling so I just tried to do my part."
Sterling had an eagle opportunity on the 286 yard par four sixth, on which he drove his ball to the front edge of the green. He missed his eagle putt right, but then tapped in from a few feet for par.
"Nick really grinded it out, he's pretty competitive," Howard said. "His swing wasn't where he wanted it, but he was still sub-80 and finished in the top ten."
Other scorers for the Lakers were sophomore Colt Tooley with an 83, freshman Tom Mills with an 84 and junior Dana Tarantelli with an 89.
Howard said that the change of direction in the wind was a major factor as to why some of his players' scores were higher than usual.
"It was a different wind for us, We're not used to playing with a southern wind," he said. "Some of the holes we play downwind, now the wind is in your face. The wind from a different direction took home course advantage out of play."
The 543 yard par five 10th was one of the holes most affected, as it averaged 6.92 strokes per player, according to Howard.
"You always second-guess yourself playing in the wind," Sterling said. "It's hard to play in these conditions, but everyone's playing in it, so you have to do what you have to do."
The Lakers are still looking for a first-place finish this season, and they will attempt to do so at the 40th Elmira College Fall Invitational at 10 a.m. on Monday.