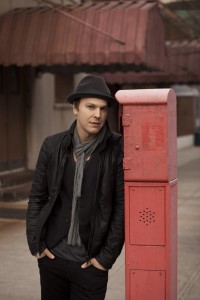 Singer-songwriter Gavin DeGraw's fifth studio album, "Sweeter," has a very clear objective: to invade the Billboard Hot 100.
In 2004, DeGraw reached third on the U.S. Pop 100 charts with "I Don't Want to Be." Additional singles "Chariot" and "Follow Through" placed in the U.S. Hot 100 chart in 2005.
DeGraw became one of the biggest names in pop music, seemingly overnight, and his combination of soulful, rock roots and youth gave a promising impression that he would have lasting power on the charts.
Dominating the airwaves has proved to be much easier said then done for DeGraw in the years following. Since 2005, only his single "In Love with a Girl" has hit the Billboard Hot 100 charts.
It is evident that this latest release is a conscious effort to return to the national spotlight, as the majority of the album's ten tracks are orchestrated perfectly for radio play.
The album's lead single, "Not Over You," has a catchy melody, emotional roots and fits a style of rock music that has been recently successful with bands such as The Script and Maroon 5. "Not Over You" was released as a single in June and has peaked on the charts at #76.
"Candy" is a song that is sure to get airplay sooner rather than later. The song begins with a piano intro reminiscent of Journey's "Don't Stop Believing" and transforms into an emotional anthem about living in the moment and ridding oneself of artificial elements.
This album does contain flaws, including lazy lyrics and uninspired melodies. "Sweeter" tries to be too big for its own good and is awkward in musical structure. Also, despite soulful vocal performances, tracks such as "Soldier" and "Stealing" provide some of the most predictable lyrics on the album.
Perhaps, the best track on the album is "Run Every Time". This song takes fans back to the "I Don't Want to be" and "Chariot" days. With some of the best writing on the album, this catchy tune is a must-own.
For die-hard DeGraw fans, there are a few piano ballad tracks on the second half of the album, one of his staples. "You Know Where I'm At" and "Spell it Out" also show off his huge voice and performer's instinct.
DeGraw arguably delivers his best album since his debut smash record, "Chariot". Particularly for veteran fans of DeGraw, this album is a must-buy. And for the casual pop-rock fan, consider purchasing the singles "Not Over You" and "Run Every Time."