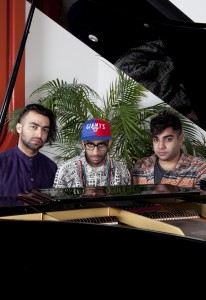 The usual response upon hearing Das Racist for the first time is one of bewilderment. The Brooklyn-based alterative hip-hop group consists of Himanshu "Heems" Suri, Victor "Kool A.D." Vazquez, and hype man Ashok Kondabolu, who crafted a career out of blending ridiculous lyrics about topics such as being high at fast food places, with insightful social commentary on race relations in America. Their debut commercial release, "Relax," takes it all one step further, giving satirical criticisms of the current state of hip-hop, commercialism, and even themselves.
Das Racist first gained Internet attention in 2009 when their song "Combination Pizza Hut and Taco Bell" went viral. The next year, they released their critically-acclaimed mixtapes "Shut Up, Dude" and "Sit Down, Man" for free and gained a rather sizable following.
"Relax" finds the group sounding somewhat unsure of how they made it this far in the industry. With songs littered with references to commercialism, it is as if they are referencing their own breakout mainstream success. Songs like "Booty in the Air" and "Brand New Dance" parody the lyrical laziness and greed prevalent in a lot of contemporary mainstream hip-hop. Though satirical, Heems and Kool never appear mean-spirited or cynical. For instance, the catchy and laughably straightforward "Girl" proves the group seems to possess a simultaneous distaste and appreciation for modern pop music.
Their first single, "Michael Jackson," sounds like a Bollywood musical number gone horribly wrong. It could very well go from ear-splitting on the first listen, to "stuck-in-your-head-all-day" on a second, to becoming a favorite song on the third. With a stupidly simple chorus of "Michael Jackson/one million dollars/you feel me?/Holla!" and over-the-top lines like "I'm f***ing great at rapping," the group is trying to demonstrate just how easy it is to sell a successful hip-hop single.
In a similar vein, "Rainbow in the Dark," which originally appeared on last year's "Shut Up, Dude," is a wonderful reminder of how good Das Racist is when all of their seemingly unrelated strengths come together in one strange song. It is also possibly the only rap song to name-drop both Jeff Mangum and Stephen Hawking.
In between all the parody, Heems and Kool A.D. still find time to sprinkle in a few tracks that display their biggest strengths as rappers and lyricists. With quick, smart rhymes that will take multiple listens to interpret, standouts "Power" and "Shut Up, Man" prove the group is still on top of their game. Heems, in particular, improves his already fantastic flow.
With "Relax," Das Racist have created an album both stupidly simple and incredibly complex. The group's unique style blended with outstanding production from such guests as El-P, Diplo, Vampire Weekend's Rostam Batmanglij and Charlift's Patrick Wimberley help create an extremely original listening experience. Though they still need to find the proper balance between making satirical pop jams, dumb stoner tunes, and giving truly intellectual insight on important issues, Das Racist have truly crafted their own style of hip-hop.