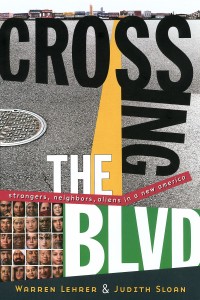 It's not always clear what kind of hybrid creature a multi-media performance will be; a dysfunctional mutant, or a powerful, artistic chimera. "Crossing the BLVD" incorporates photography, music and storytelling woven together masterfully by actor and writer Judith Sloan. "BLVD" explores the experiences of contemporary immigrants living in Queens, perhaps the world's best expression of the global village cliché. It is a land of its own, a place where 138 different languages can be heard in the streets.
Sloan, speaking as the people she interviewed, tells stories of trial, survival and absurdity. Her roles are as vivid as they are varied. She becomes a gay Colombian couple fleeing persecution by paramilitaries, a dancer who was famous behind the Iron Curtain but now lives in obscurity and an Egyptian café owner who forgives a group of vandals that attacked him, along with many other individuals.
The tales can be surprising, frightening and depressing, but they are laced with humor and perseverance, and are eye-opening. "BLVD" shows why people still believe in America, how America treats its immigrants, and how the world is increasingly interconnected. Most of all, it celebrates the value of culture, and how, in Queens, dissimilar people coexist while maintaining their identities.
Sloan's voice and energy are the foundation of the performance. Her objective is to bring characters to life, so that their unique voices and perspectives may be heard. She does this extremely well. It's fascinating to watch her continuously assume new personas. She easily switches accents and attitudes, and temporarily becomes the character, whether man, woman, Nigerian, Romanian, or Tajik. Behind her is a projector screen presenting photos of the people she channels so convincingly, interspersed with images of Queens itself. The urban landscapes are gritty, crowded and colorful, giving the audience a good feel for where these people carry out their new lives. These poignant pictures are the work of Sloan's husband and collaborator, Warren Lehrer. He is also responsible for the show's accompanying musical tracks.
The only weaknesses of "BLVD" are structural. The mode of presentation becomes slightly repetitive after a while, and there is no apparent order to the introduction of characters. Yet, they are portrayed well enough to make the narrative compelling. "BLVD" paints a picture, rather than trying to take viewers somewhere. Altogether, it is a diverse piece of art about a diverse group of people. It entertains while providing a thought-provoking point of view.