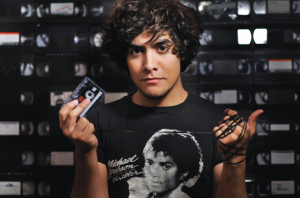 In 2009, Neon Indian, also known as Alan Palomo, burst onto the electronic scene with his acclaimed LP "Psychic Chasms." Palomo's unique blend of synthesizers, breezy melodies, guitar distortion and catchy 8-bit samples helped usher in a new style of indie music known as "chillwave." Neon Indian's sophomore effort, "Era Extraña," finds him moving slightly away from the chillwave sound he helped popularize and toward something that sounds simultaneously retro and futuristic.
Album opener "Heart: Attack," the first of a three-part short instrumental trilogy, sounds familiar enough with all of the bloops and bleeps one would expect from Neon Indian. The track moves seamlessly into the first single, "Polish Girl," which is undoubtedly the most danceable track on the album. Its quick full-on synth-pop beat and confident vocals are a pleasantly surprising far cry from anything on "Psychic Chasms."
"Blindside Kiss" and "Hex Girlfriend" keep the energy going strong, with a much more frantic, poppy sound. The infectious standout "Hex Girlfriend" in particular sounds like 80's mall-pop from the future. The second half of the album feels much more subdued and surprisingly substantial, outside from a few more forgettable tracks, namely the title track and the chillwave slow-burner, "Fall Out.") "Halogen (I Could Be a Shadow)" is a fine example of Palomo's newfound appreciation for emotionally complex lyrics. Most of the songs on "Era Extraña" share the traditional underlying themes of love and heartbreak, yet Neon Indian makes it feel fresh.
With its funky synth and what sounds like a Super Nintendo fighting game sample, "Arcade Blues" ends the album on a high note. On "Psychic Chasms," Neon Indian introduced a crisp, eccentric new sound to the music world. With "Era Extraña," Palomo evolves his strengths and avoids the sophomore slump many feared. Most of the songs here are catchy, accessible and experimentally layered enough to keep fans finding something new with each listen. While it feels like Neon Indian's masterpiece is still to come, "Era Extraña" is a giant artistic leap.