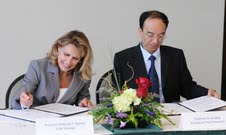 Oswego State attracts students from all over the country, even as far as Alaska and Hawaii. Now Oswego State is looking to expand internationally, not just by attracting individual students, but by having foreign universities encourage their students to consider attending Oswego State.
Oswego State President Deborah F. Stanley hosted a delegation from a Chinese university, led by Zhejiang Sci-Tech University (ZSTU) chairman, Fei Junqing, from Hangzhou, China. On Sept. 9, the leaders of ZSTU and Oswego State signed a degree articulation agreement to jointly deliver bachelors' degrees to both Chinese and American students in three majors: business administration, human resource management and marketing.
"This agreement is full of promise for our two institutions for the students who will earn these distinctive and empowering academic degrees and for the communities here, and in China, where they will learn and practice their professions," Stanley said at the formal signing ceremony.
Joshua S. McKeown, Ph.D., Director of International Education and Programs, stated that: "Right now we have about five students each semester from China. This new agreement provides both universities the opportunity to grow these numbers considerably for our mutual benefit."
Oswego State and ZSTU first established their educational partnership four years ago.
"This visit strengthens the bond between our campuses, just as the new degree programs we are launching will, down the road, strengthen and multiply relationships between business people from each of our nations," Stanley said.
During the ceremony, Chairman Fei recounted the history of the two institutions' relationship in his remarks.
"We are truly looking forward to furthering our mutual collaboration," Fei said. "This agreement for a two-plus-two program is the ideal initiative towards achieving that collaboration goal."
"The main purpose of this agreement is to facilitate students transferring between the two universities so that the students can begin their degrees at Zhejiang Sci-Tech University, complete two years of studies and training there, and then transfer to SUNY Oswego to complete their degree requirements," McKeown said.
Richard Skolnik, Dean of the School of Business, said he "anticipates the first cadre of students, under this new agreement, to arrive at Oswego next fall. There should be about 30 to 45 students across the three majors."
The agreement means Oswego State will take in about $64,500 per student in those two years. The Oswego State admissions application for international students website states that the estimated cost of per student for two semesters is $32,242. In comparison, during the same period of time, a New York resident student would only pay $7,190.
McKeown said a fairly small number of Oswego State students actually go to China. But he believes that this kind of agreement, and innovative program planning, will help encourage more Oswego State students to consider studying in China.
Even though the rate of American students studying in China has been growing steadily, it is still not as popular as some of the other foreign locations. In the past year, less than 15 Oswego State students participated in educational pursuits there.
"More than 60 students from Zhejiang have studied at SUNY Oswego since 2007," Junqing said.
Fei expressed his and his university's gratitude for the hospitality, support and service SUNY Oswego faculty and staff have provided those students.
"In the near future, I hope I envision SUNY Oswego teachers and students at our campus in China. I hope we can provide as good a service to you," Fei said.
According to its website, Zhejiang Sci-Tech University is "located in Hangzhou, a historical city blessed with rich resources, talented people and prosperity."
The Zhejiang Sci-Tech University is a provincial key industrial university with distinct characteristics. It has disciplines in science, industry, literature, economy, management, law and education. The university consists of four campuses and covers an area of 350 acres. It has 17 affiliated colleges.