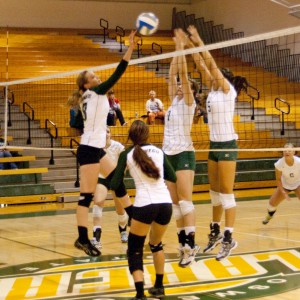 The Oswego State volleyball team lost to Keuka College, 17-25, 19-25 and 12-25, in Max Ziel Gymnasium on Wednesday evening in the home opener for the Lakers.
The Storm were able to wear out the inexperienced Laker squad with 20 kills and 12 service aces.
In the first set, the teams went back and forth early before Keuka was able to score four straight points and take a 13-9 lead. The Lakers fought back to tie the score at 15, but the Storm were too much and went on to score the next six points and eventually win the game, 25-17.
In the second set, freshman Sam Manicone held serve for five consecutive points as the Lakers took an early 6-5 lead. However, Keuka quickly took control afterwards taking a 10-6 lead only to see the Lakers fight back once again for the second straight game and tie the set at 15.
Unfortunately, the Lakers were unable to complete the comeback, as the Storm took control late in the game once again. Even when Oswego State head coach Betsy Hayden called a timeout at 20-16, the tide had all ready shifted and Keuka went on to win the set, 25-19.
In the third and final set, the Lakers seemed worn out and the Storm were able to take control early making it the least competitive set of the three. Keuka scored nine consecutive points under Hannah Doody's serve and took a 12-3 lead, which they would never let go of, securing a 25-12 victory.
The Lakers did have some solid performances despite the loss. Sophomore captain
Meaghan Puff posted five kills and seven digs, while Junior Kim Grice notched five kills and four digs. Freshman Kara Michelsen paced the Lakers with 14 assists.
The Storm were led by sophomore Paige Golden who had an impressive performance with nine kills and five digs. Junior Brittany Smyder also played well with eight kills and three blocks.
For the Lakers, who display an entirely new roster from last season, it was the first chance for many of them on the college level. Of the 10 players on the roster six are freshmen and three are sophomores while Grice is the only junior.
"They're a young team," Hayden said. "They were nervous but they handled it well."
The win improves Keuka to 3-0 on the season while the Lakers fall to 0-1.
Hayden is remaining optimistic despite the season-opening loss.
"They played with heart, they hustled, I'm proud of them," Hayden said.
Up next for the Lakers is the Potsdam/Victory Promotions Invatational in Potsdam, N.Y., in which the Lakers will play four games in two days.
Oswego State (0-1) will face off against SUNY Plattsburgh on Friday, Sept. 9 and St. Michael's the same day. On Saturday, Sept. 10, the Lakers will take on SUNYIT and Cazenovia to close out the tournament.