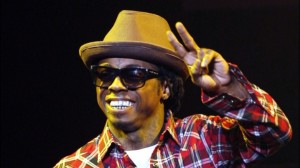 Lil Wayne's "Tha Carter IV" is a tough album to review. On one hand, it's not exactly the "epic" album one might expect. Lil Wayne was recently released from prison, but rather than the album opening with a heavy and passionate anthem to his fans, he instead chooses to open it with the appropriately titled but forgettable, "Intro." On the other hand, Wayne's not really the type to adapt his style to one's expectations. Wayne doesn't care what other people think. While he sticks to what he does and that's a quality to be admired, that can destroy a lot of artists. Granted, Wayne has had his fair share of experimenting, including his "rap-rock" attempt on "Rebirth." But this is "Tha Carter IV and Wayne should give it all he's got, which he unfortunately doesn't.
No matter what you were expecting from this much-hyped album, one thing's for certain: it's going to sell. It's Lil Wayne and that's enough for people to buy it. Unfortunately, Wayne didn't put out the definitive album. Perhaps he's too busy with Young Money or maybe he's swamped with guest verses, because it seems that he's featured in a new song every other week. Whatever the case, it sometimes feels like he's getting either too tired, lazy or cocky. Calling a rapper "cocky" is a pretty obvious statement, but hopefully Wayne's fame and fortune hasn't gotten to his head to the point where he's just regurgitating old ideas because he knows he can get away with it. For instance, "6 Foot 7 Foot" resembles "Tha Carter III's" "A Milli" with its record-skipping beat. "How To Hate" is another Auto-Tuned drenched track featuring T-Pain that doesn't quite capture the magic of "Tha Carter III's" "Got Money," and as for lazy, Wayne doesn't even appear on two of the tracks.
"The Carter IV" could have been Wayne's comeback, post-prison album that redefines why fans love him without losing what made him great in the first place but it only comes half way. The album sounds like Lil Wayne and if past sales tell us anything, it's that people like his sound. The thing is, save for a couple tracks, it doesn't show much evolution. "How To Love," is probably the most radio friendly track on the entire album; it is the one track that actually shows some evolution in Wayne's style.
A collaboration with Rick Ross doesn't help much. "John" is a sloppy mess of a song and Ross is not a good rapper. There are many better rappers Wayne could have collaborated with on this album. Cory Gunz's verse in "6 Foot 7 Foot" is forgettable at best. However, Drake kills everything he's featured on in the best way possible and it's because of his chorus on the single "She Will" that the song is as popular as it is.
Although it seems like more of the same, the truth is it's not a bad album. It's good. However, considering the success of its predecessors, it falls short. "Tha Carter III" is a much better album. Wayne seemed like he was on top of his game. Fans will remember "Dr. Carter" from that album, and how he attacked rappers who regurgitated ideas and lacked originality. The irony of it is that with "Tha Carter IV," he's fallen victim to that himself. The album hits all the familiar notes: large egos, women and drugs.
On "Outro," which is one of the best songs on the album and Wayne is absent from it, Busta Rhymes closes the album with "thanks for delivering another classic with 'Tha Carter IV.'" "Tha Carter IV" may break records sales wise but it probably won't become a rap classic. Kanye and Jay-Z's "Watch The Throne," Bad Meets Evil's "Hell: The Sequel" and The Game's "R.E.D. Album" are all better albums. While it's not a classic, "The Carter IV" is still listenable, just not as great as it could and should have been.