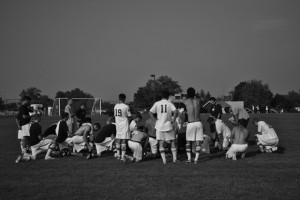 The stage is set. The goal is simple. Go undefeated at home, win the conference, have the most shutouts and return to the SUNYAC playoffs.
Last season, the Lakers turned in a sub par performance of 5-10-1, with a 3-6 record in conference play.
This year, the Lakers are out to prove that they can compete for a championship. After a heartbreaking loss to the Oneonta Red Dragons that left the Lakers ineligible for the playoffs last year, senior Bryan Pacchiana captains a squad that looks to have a bounce back year.
One of the challenges that the team faces is the fact that seventh-year head coach Robert Friske brings in 16 freshmen.
"With our captains we are looking for good role models to help the younger kids. Their goal is to help develop these younger players as not only great athletes but as young men as well," Coach Friske said before the Lakers hosted their second annual Oswego State Men's Soccer Tournament.
However, this Laker team can look forward to the depth that they bring to every game. The defense is anchored by Pacchina, a 2010 all-conference selection. Joining him in the backfield will be seniors Lucas Pettit and Jake Honan, and junior Adam Gray. All saw significant playing time last year.
Sophomore Andrew McBride enters his second season at midfield, along with sophomore Ryan Tibbetts and senior Ben Nix.
Another interesting battle is going on for the goalkeeper spot. Junior J.P. Goodwin currently holds the top spot but senior Pat Breen is also expected to see some time in front of the net.
Up front the Lakers return senior Max Guliani who started 12 games last season. Sophomores Brendan Biesner, John McLoughlin and Mike Naab all expect to see more playing time this year. In an interview with assistant sports information director, Nate Burrow, Coach Friske said, "I don't think we are going to be your classic 1-0 soccer team, with the players we have we are going to be the 3-2 type of team." He went on to say, "I have to expect them to make mistakes, but it's going to be exciting to watch. We are going to win and lose some heartbreakers."
The team suffered a blow when senior captain German Callazo endured his second straight season ending injury days before the Lakers' first game.
"Losing German was devastating for our team. He has been a great player but an even better leader," Pacchiana said." "German is one of my best friends, and I know he would do anything to play this season. This motivates me to work even harder, speak louder, and fight harder for him. German is our teams' motivation and his leadership off the field has helped our team so much."
Callazo would have anchored the midfield, but he now mentors from the sidelines.
"German is a natural leader," said Friske. He also said that if the team didn't mean that much to Callazo he would still be in the training room, but he is out on the field helping the team in anyway he can.
The Lakers opened the season this past weekend winning their second annual tournament with wins over D'Youville and a come from behind win against Alfred in the Championship game. The team will seek from last year's season finale when they host SUNY Oneonta to open SUNYAC play on Sept. 23.