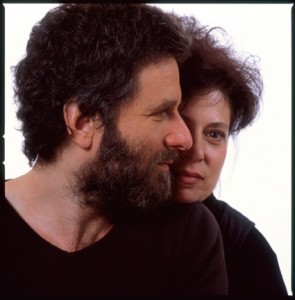 Crossing the BLVD, a project of EarSay, Inc., is a collaborative exhibit created by writer and photographer Warren Lehrer, and performer and oral historian Judith Sloan. The exhibit is a series of photographs and interviews that capture the different aspects of the people living in the New York City borough of Queens. The artists gathered the stories of why people decided to come to the United States, how they came here, what their lives have been like and how they feel about their experiences.
At the different stations the photographs, voices and music reach out to the viewer to tell the story of their lives. For instance, Eugene Hutz becomes real with the words, "300 million states of America." Or the picture of a woman named Li Li, which reads: "I don't want to make deeper comments about the life here."
Two students gave their impressions of the exhibit. Elizabeth Rosa said, "I really like it. The stories are so interesting." When asked if there was a particular person she identified with, she chose, Maly, a young woman from Ecuador (International High School.)
"You see I was born here, but my mother sent me to Ecuador when I was one. I returned when I was 15 and she came here when she was 14." Alexander Frederich said, "There is something simply American about the exhibit. I don't know how else to put it."
The exhibit runs from August 29 through October 10, 2011. There will be an opening reception on Friday September 9 from 5 p.m. through 7 p.m. at the Tyler Hall North Gallery, with a chance to hear the artists speak at 6 p.m. There will also be "Crossing the BLVD with Judith Sloan," a one-woman performance on Wednesday, September 14 at 7:30 pm and Thursday, September 15 at 7:30 pm at the Waterman Theatre in Tyler Hall.